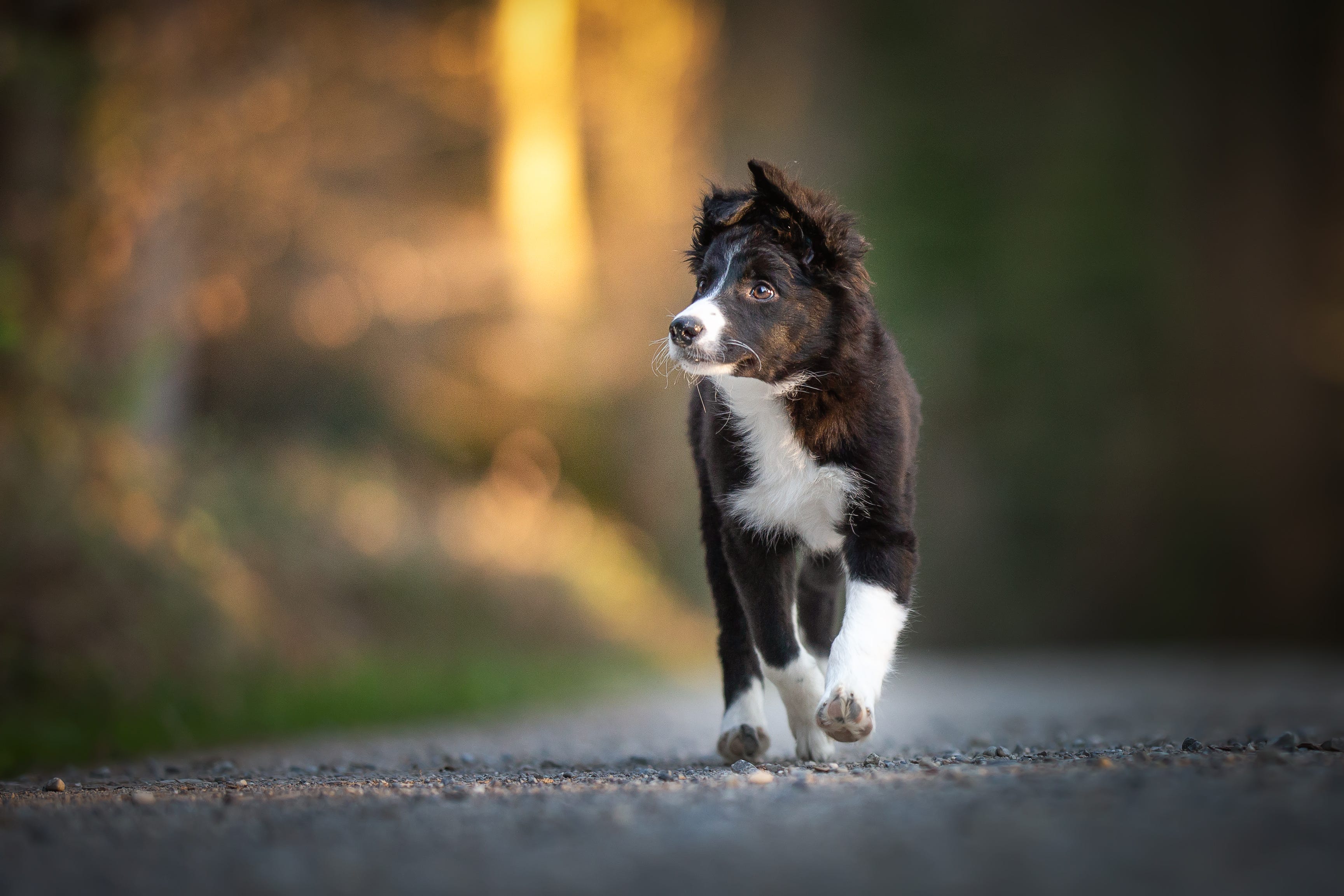 Puppies
A litter with Cara is planned for winter 2022/2023.

For updates, subscribe to the Facebook page:
You can live without dogs. But is that still a life? ;)
On 04 September 2019, the kennel name von den Hundtastischen Wölfen was registered by the FCI for Boder Collies and German Shepherds.
The preliminary inspection of the Border Collie Club Switzerland took place on 22 September 2022. The kennel fulfils all conditions of the BCCS and the SKG. So nothing stands in the way of the first Boder Collie litter von den Hundtastischen Wölfen!
Our puppies grow up in the house and garden with my other dogs and are allowed to move out when they are 63 days old (9 weeks). Just like the bitch, they are regularly wormed, examined by the vet and then have their first combined vaccination. Dogs that go abroad can of course stay longer. They are then cared for and trained according to their age and receive all the necessary vaccinations and papers for the journey. Out of self-interest, I have all puppies tested for genetic diseases with the Wisdom-Panel (My Dog-DNA).
In order to keep the breeding as healthy as possible, all new owners are required to have their dogs x-rayed (HD, ED, OCD, LÜW, from 12 months) and their eyes tested for common diseases at an official laboratory (from 18 months).

It is important for me to get to know any potential buyers in at least one video call, or even better in person, so that I can assess which puppy might be the best fit. As the puppies go through an enormous development, it can take a few weeks to decide together which one it should be.
Some thoughts
Many people ask me why I breed dogs at all. There are so many poor souls in the shelter looking for a home. Yes, that is true. But in the end, these dogs come from somewhere too. Personally, I keep dogs for a purpose. It might be funny, but quite inappropriate, to send a little mongrel after my sheep.
In sports, I used to push myself to my limits and compete quite successfully. To feel yourself suffering and fighting for something, even something you like, frees your soul immensely! It should be no different with my partner dog. I don't want to constantly overburden a dog X with things that are a game for my Border Collies, which they do without effort. I don't want to rely on luck for that.

Some things are a matter of chance, like colour or markings, and these are definitely secondary for me. My dogs convince through willingness to perform, leadership, will to please, stamina and fighting spirit. I want dogs that I don't have to ask twice if they want to do something for me and I don't want to have to keep waving food in front of their noses. I want dogs that love and live the work just as much as I do. I want to see that my dog gives everything to fulfil my wish. He should be resilient, easy to train and absolutely fearless, reactive and clear-headed, intelligent and without any tendency to get excited about prey or food. If I don't have to say anything because he already knows what I want, then he is the right dog for me. I don't like noise sensitivity, fear of the environment or any kind of insecurity. I also don't like dogs that show tendencies to want to herd everything in everyday life. And an absolute no-go for me are Border Collies that show any aggressive tendencies! I don't want to make it even more difficult for the future owners than it already is when they are breeding. Thus, all dogs used for breeding with me, whether male or female, are unconditionally social and friendly towards everything!

In order for them to be able to do their work for a long time and without restrictions, they must of course also be healthy. Here I try to exclude everything possible through appropriate husbandry, feeding and tests. But I can't play God either. Sometimes nature goes its own way and we have to respect that. Nobody is perfect and many things cannot be influenced in advance.

As for the results of males...
I don't care if the male has won the World Championship 3 times or only one novice tournament. Of course I want to see that he can perform under difficult conditions, but a lot depends on the person who is leading the dog. And as we all know, a good trainer can take even a mediocre dog to the top. Some inexperienced dog owners have diamonds at home and don't know it.
That's why I always personally visit all the dogs I like and test all the things that are important to me on the spot.

In the end, I breed dogs that I can say I would want to keep ANYONE of! Once you have had the pleasure of a simple, abitionist easy going dog, you will agree with me that you would not want anything else!

For new dog owners and those who have no sporting or working experience with a previous dog, these Ferraris are nothing. So please don't be angry if I can't answer such requests positively.